« Previous page
Body without blood – interview with Exemia
Updated: 21 March, 2016
Created:
21 March, 2016
By:Adalbert
Category:
Interviews
VA - Halotan Sounds 2
StyleDark Electro, Electro Industrial
More info and player
Adalbert: Exemia's started in 2003, since that time you have released few album's but "Cryptiobiosis" is the first one with regular vocals and lyrics, made by you. Why after those years of making instrumental music you've decided do make more typical dark electro stuff with vocals?
Fako: Actually, the band played a mixture industrial-rock and darkelectro with vocals from 2003 to 2005 when I worked with another vocalist, I think the main reason is because of the genres I was working on the past years, required a bigger focus on synthwork and the structure than just adding vocals to the music (synthwave, psytrance, rhythmic noise, goa-industrial,  aggrocore, freeform, drumstep). It depends on the genre of the repertoire, and this time I will be revisiting and producing styles that will include vocals (industrial-dance, dark electro, metal subgenres).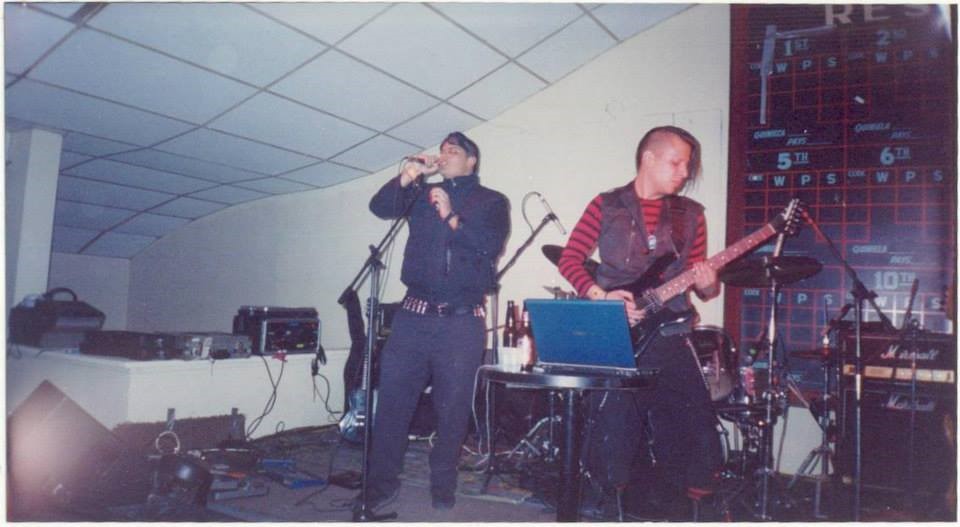 Exemia live 2005
Adalbert: Well, such songs as "Disgraced" or "Night terrors" are definitely dark electro clubhits, taking what's best from the tradition of the genre, but there are also such experimental tracks like "Hateful apparatus" which mix tribal elements with rhythmic noise and… rock elements (guitar solo!). How are you able to join all these elements?
Fako: "Hateful Apparatus" is my favourite song from the album. The lyrics of the song tell several stories at once of how religion has affected evolution through all these years. The musical elements I combined for this track follow the harshness of the style of the album "Computer Hate" with a distorted Darbuka line drawing a prehispanic feel to it, as the story progresses it becomes noise percussion,  I added staccato chunky basslines in the style of "Mutación de Generos", and a synthetizer solo run through guitar distortion in a similar style to "Robocorpse" synth solos to make the resolution of the song.
Adalbert: There are also some more atmospheric elements – "gothic" organs and chants in "Disgraced" or "Gris" – Exemia, as for me is about intensive brutality, but this "dark" element is also important. Would you agree with me?
Fako: Yes, there is no doubt that there must be a balance between the decoration of a song with darkness and the brutality of the bass and drums to make this kind of music. The second one is very important on this style because it captures the listeners attention, yet the main objective behind Exemia is not only to reach the ears of the listener but to make them feel the music making them want to dance or headbang, triggering their pilomotor reflex or just to get them through their day with different genres for each mood and state of mind.
You may also be interested in