« Previous page
CygnosiC – Demystify – review
Updated: 15 October, 2023
Created:
14 October, 2023
By:Adalbert
Category:
Reviews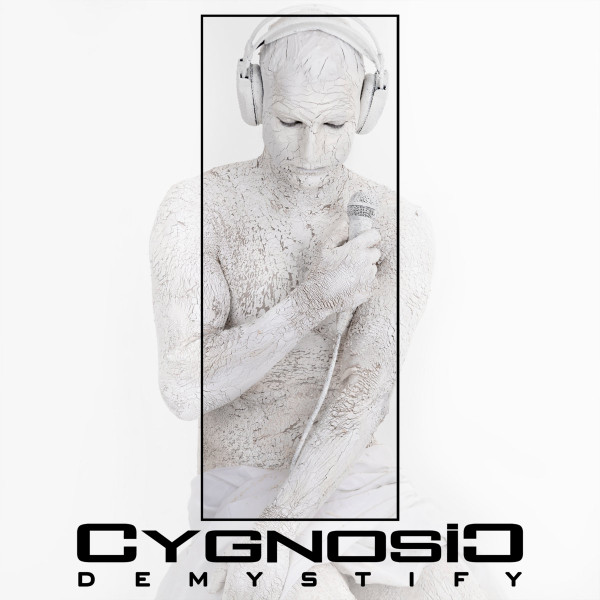 CygnosiC is a Greek project that has been active for over seventeen years, delivering new albums every two to three years for all those whose hearts beat faster when they hear dark electro, EBM or even future or synth pop. In my personal case, the moment when Cygnosic caught my attention was the album "Fire and forget", released in 2013. In fact, one listen through this album was enough to recognise a very characteristic style of CygnosiC.
Dancable but rather mid-paced tracks with very distinct melodies and harsh but not over-manipulated vocals and great consistency of music – these elements immediately convinced me that Georg Psaroudakis, who is the mastermind behind CygnosiC, is a very conscious artist and skilled musician and producer. Although "Fire and forget" was a great album, I did not follow CygnosiC's next outputs very closely. Ten years later I launch "Demystify", released on September 1 of this year (you can listen it here), and I can't say that CygnosiC's style has evolved in any way, which is not a bad thing, since this artist's style has always been very characteristic. The only thing that has changed a little is a slightly better production, but it was great ten years ago anyway.
Once again, the listener is drawn into the dark yet haunting world of CygnosiC, guided from start to finish by sharp yet warm bass, cold, spacey pads, ubiquitous arpeggios and very oldschool leads that immediately recall the greatest synth riffs of the '80s. This obvious but not sketchy retro vibe is also accentuated by certain production choices, which is especially noticeable in the drum sound (Simmons-like toms or claps – Phil Collins likes it!). As mentioned before, the vocals are very natural and based more on the guttural, almost growly style of singing than on effects, which I really appreciate, because you can actually hear what the singer is singing about.
The overall impression? It's a great dark electro or occasionally darkwave album, however I recommend readers to check CygnosiC out for themselves, because this music has a very specific mood that you won't find on any German or Benelux artist's record. Although the music has that cold, automatic flavor characteristic of the genre, I also hear some elements that I have heard only in Greek music, and not only in electronic. For example, the vocals can evoke some death black metal associations, and following that, I immediately discovered that in CygnosiC's music I find some elements that it shares with such renowned artists as Nightfall or especially Septicflesh.
This concerns not only the singing, but also the melodies, which sometimes evoke the mood of Septicflesh's "Sumerian deamons" album. Since I am not a music theorist, I cannot explain the exact reason for these similarities. And of course – if we want to limit ourselves to electronic music – Siva Six comes to my mind. Surely, there are no "occult" elements in CygnosiC's vision that can be found in the music of Septic Flesh or Sivas Six, but just listen to the last, title track on "Demystyfy", which uses some Dead Cand Dance-like dulcimer sounds, and you will understand what I am talking about.
Speaking of the individual tracks – there are some standouts, like "The Sea" which really has something aquatic and liquid about it, or "Nothing to regret" which is an instant floor filler, yet I have to stress that the whole album is really strong and meant to be heard in its entirety. Yes, I know that dark electro is supposed to be aggressive and disturbing, but I find CygnosiC's recipe strangely catchy and somehow relaxing. Overall, "Demistify" not only a must for every dark electro fan, but for all electronic music lovers.