« Previous page
Uncarnate – Dead Dancers – review
Updated: 16 September, 2023
Created:
16 September, 2023
By:Andrzej
Category:
Reviews
It has to mean something when a seasoned hard bit and harsh electro fan like myself sits down to write a review of a synthpop single.
A single with just two songs.
Well it has to be good then, don't you think? Follow me while you listen on Bandcamp:
https://uncarnate.bandcamp.com/album/dead-dancers
Or just hit play below:
There is no coincidence in me encountering this release, as I am a fan of Uncarnate's producer's other project, Orbicide (sadly now in hiatus).
Halotan Records released two of their albums, namely "Not a Single Letter Added" and "Ex Falso Quodlibet".
So Uncarnate has always been in my orbit of interests, without getting overly excited of course.
I remember being on one of their gigs some years ago. I appreciated really catchy melodies and I noticed how good the vocalist was, singing live really complicated parts.
Well now they guy has improved – and he improved over something that has already been well above your average synthpop singer.
The singing is fluid and effortless. The guy is having fun while singing, and he does it the way he wants. This sort of self confidence and lack of fear to cross genre's borders is on a pro level to me.
"Dead Dancers" consists of just two songs – "Dead Dancers" and "Oceans". Not too many, but one of them – "Dead Dancers" has a potential to become a real dancefloor hit.
I can imagine it being played at the end of the party when just the toughest ones remain on the dancefloor, when the atmosphere is heavy and everyone is wasted.
This magical hour when the music is deep and ready to reveal it's hidden meaning – the hour of dead dancers – now can have it's anthem. Try to imagine this while listening, it does fit, doesn't it?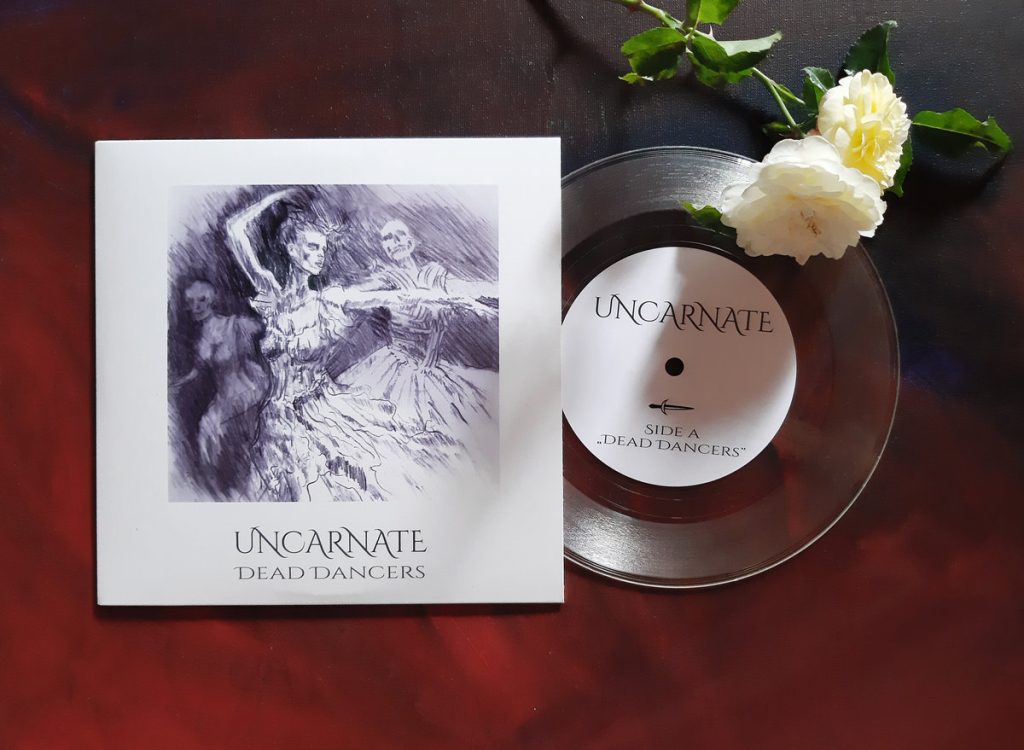 Having a 50% of hits on a release is not a bad result I guess. I do like "Oceans" too, but like it happens it gets a bit overshadowed. Maybe it requires a bit of time to sink in.
One of the most reliable qualities that let you distinguish a good artist is constant development. If you listen to Uncarnate's previous release, "Loss" (2021), you'll hear them searching and zeroing in on the style (both musical and production-wise) that fully matured on "Dead Dancers".
Adam – the producer has gone a really long way since I met him years ago. He became a real producer of real recordings.
I definitely recommend you to listen to the release and if you really fall in love with it – to get yourself one of the vinyls the guys prepared for those into physical media.
All we have to do now is to wait for a full length album. After such a fantastic opening, more simply has to follow.