« Previous page
Sampler 07 compilation is just around the corner
Updated: 23 May, 2013
Created:
23 May, 2013
By:Andrzej
Category:
News
We are happy to announce that work is under way on our latest instalment of Sampler compilations. It is going to be a big step for us, as Sampler 07 is our first truly international release. We are looking forward to it and we are extremely happy to be able to work with talented independent musicians from all over the world.
For the last couple of years Halotan Records have been growing slowly serving nearly exclusively bands from Poland.
We have tested and indeed invented a lot of things, made mistakes and learned from them. We created a label driven by passion for music we like. We prooved that our way of releasing music works well for bands and fans alike.
VA - Halotan Records Sampler 06
StyleGoth, Dark Electro, Industrial
More info and player
Helping bands to get their music heard has always been one of our core goals and we are preety good at it. We will continue to work to achieve this goal for all the bands who entrust us with their music on this and future releases.
Sampler 07 is going to be electronic and dancefloor-oriented release. We have around 10 bands confirmed so far and things are going smoothly.
What emerges from songs already sent it is going to be very high quality selection of modern, well produced dark independent electronic.
Soon we are going to release full tracklist, so stay tuned. The best way to do so is to "like" our English language facebook page in the box below:
It is hard to tell a definite release date, but we won't be far off if we say it should be about four weeks or so from now.
We opted to contact the bands by ourselves and this is done mostly by our friend Jacek from Cold Therapy, whom we owe a bigh thanks already for all the good work he has put into this release.
At this stage we may do an open entry for 1-2 bands, but this is not decided yet.
Sampler 07  – like all our releases – is going to be available as full free mp3 download and on physical CD priced at €3.50.
Every "Sampler" compilation we have released to date has photos of an alternative model on it. We have been using Polish models' photos exclusively so far.
Starting with Sampler 07  we are going international in this department as well. The first brave "international" model to shine on our cover is Vesmedinia, photo credit goes to Joaquin Sánchez.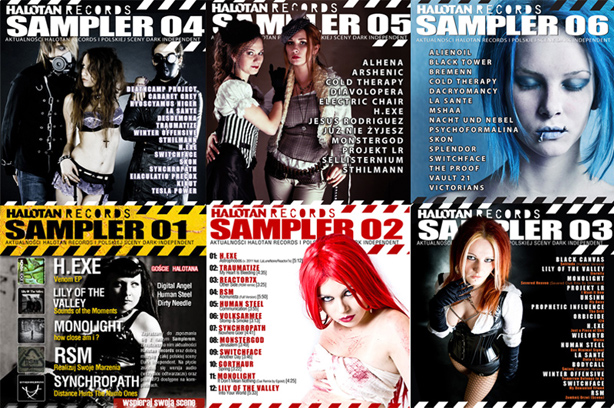 Above: covers of our 6 Sampler compilations released to date. See them in our store.
More information about our "Sampler" copilations can be found in this article – it is full information for bands. You can listen to, download for free, see photos and buy previous Samplers under links below – scroll to the bottom to see them.
You may also be interested in
Related products and CDs

VA - Halotan Records Sampler 10

VA - Halotan Records Sampler 09

VA - Halotan Records Sampler 08

VA - Halotan Records Sampler 07

VA - Halotan Records Sampler 06

VA - Halotan Records Sampler 05

VA - Halotan Records Sampler 04

V/A - Sampler 03

V/A - Sampler 02