« Previous page
Fredrik Croona – The Grey Line – review
Fredrik Croona's "The Grey Line" is another fine release from Advoxya Records, dated September 1st 2015. If I were to pick just one word to describe it, I would said it is surprising. And it is surprising on many levels. But – first things first.
Fredrik Croona is the frontman of quite well known dark electro band Cynical Existence. "The Grey Line" is an album from his side project, released under his own name.
Please like Fredrik Croona on Facebook in the box below:
In a recent interview – referring to his side project – Fredrik said: "I want to go a bit slower and darker with Cynical and the new material I wrote didn't really work, mainly because it sounded more like trance/futurepop and it was a bit more "happy" in a way. So I decided to try to make a cross-over between futurepop and aggrotech. It's going to have more singing and less screaming."
VA - Halotan Records Sampler 09
StyleDark Electro
More info and player
It is one thing to read about it and another to actually hear it. What we get on "The Grey Line" is synthpop or futurepop music that brings to mind Neuroticfish, Icon of Coil or – if we stretch it a bit – old VNV Nation just to name a few classics. So this is surprise number one.
Another surprise comes when you hear vocals for the first time. I appears that the man responsible for squeaky screams in Cynical Existence can actually sing. And he sings with clear, undistorted vocals.
Just when you manage to absorb the fact that the music is not actually dark electro, another surprise kicks in – harsh vocals. Those are vocals we know from Cynical Existence. It has to be said that they sound much more authentic and self-confident that the clean futurepop ones.
For some bizarre reason harsh vocals go extremely well with the music, even though they completely break the futurepop convention of the songs.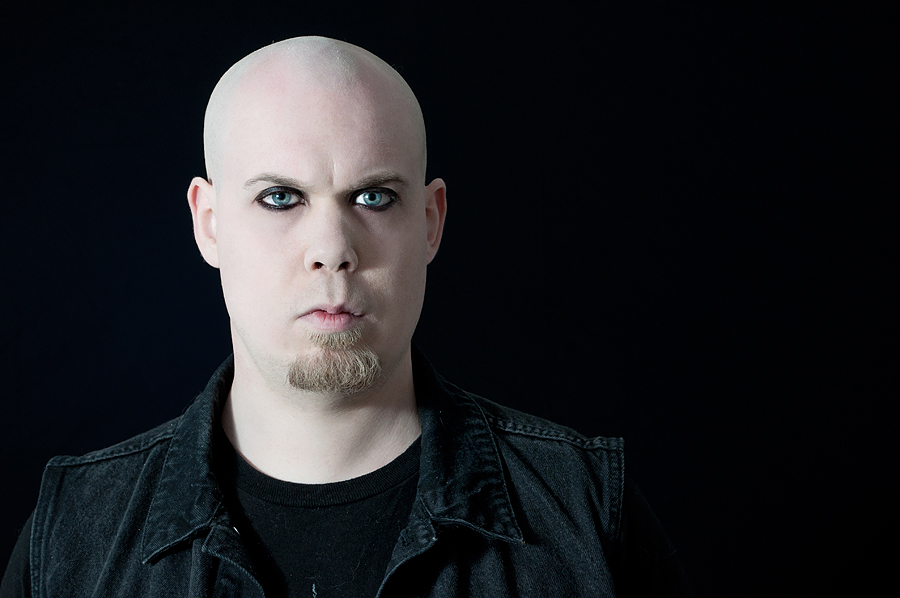 It seems that futurepop and aggrotech crossover is actually possible. Is it digestible though? While it is perfectly fine with me, I have an impression that it may be too harsh for futurepop fans and too futurepopish for the dark electro crowd.
On the other hand being quite unusual the project can certainly gather following among people whose preferences are a bit more varied.
One thing is for sure – the material would be unsuitable as the next Cynical Existence album and if released as such it would do the band a big disfavour. The decision to release it under a different name was correct.
Please like Cynical Existence on Facebook in the box below:
Dancefloor is the place where both futurepop and dark electro parties will be fully satisfied. Fredrik Croona's music is perfect for club setting. While mostly melodic, it retains enough aggression for the peak dancefloor time. It is music that can and will get the party rolling.
Dancefloor is the place where both futurepop and dark electro parties will be fully satisfied.
I think that "Stand my Ground" featuring Patrik Hansson is the number one candidate for a dancefloor hit. While the song follows standard futurepop routines, the harsh vocals make it stand out. It has a great potential to get noticed and keep the dancefloor full.
Another thing you may notice while listening to "The Grey Line" is references to goa trance. Raw sounds and easy to recognise psy-trance melodies add another layer to this already eclectic release. Best example – "Coming Down" – without vocals it would be just a standard oldschool goa trance song.
Overall I do enjoy the album. Fredrik clearly made bold decisions and did take some risks he probably could not afford with his main project. I think those will pay off in terms of gathering a fan base for the solo project and supporting his already strong position in the dark electronic scene.
While writing these words I am listening to "The Grey Line" for the third time and at this stage I can recommend it to you without a shadow of a doubt.
"The Grey Line" can be bought from Advoxya's store here.
Please like Advoxya Records on Facebook below:
You may also be interested in