« Previous page
Polish dark electronic compilation – Halotan Sounds 2 is out
Updated: 5 September, 2015
Created:
5 September, 2015
By:Andrzej
Category:
News
We have a pleasure to announce that our exclusively Polish dark electronic compilation, Halotan Sounds 2 is out. As Halotan Records come from Poland (now based in Ireland) this is a special release for us. We are exited about the opportunity to unveil some promising artists from our home country.
VA - Halotan Sounds 2
StyleDark Electro, Electro Industrial
More info and player
You can listen to the whole release and download it for free here.
A physical CD is also available.
The compilation showcases Polish bands from the wide dark lectronic scene. The style is varied and consists of dark electro, electro-industrial and a bit of darkwave music.
It has been 5 years since the first Halotan Sounds compilation came out. The current one features completely different bands, different style and different new generation of dark electronic artists.
Seems that Polish scene is evolving as it was able to produce an entirely fresh set of artists within just 5 years.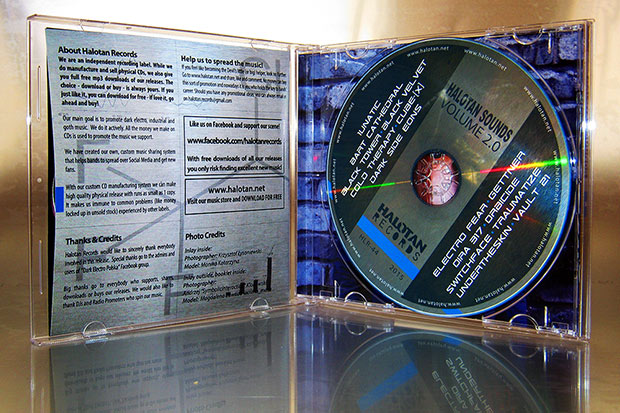 Halotan Sounds 2 is just a probe we are sending to the world. If there is interest we will continue to release compilations under Halotan Sounds brand and we will keep them Polish.
The playlist is as follows:
1. GEttNER – The Former Life
2. Traumatize – Moje Odbicie (Exemia Remix)
3. 1unatic – Break The Machines
4. Cold Therapy – The Puppeteer
5. Black Tower – Zdrada
6. Switchface – Królestwo Robaków
7. Orbicide – The Ashes of Ai
8. Dark Side Eons – Lighthammer
9. Electro Fear – Sisters
10. Oira 317 – Mental Breakdown
11. Black Velvet – I Feel Loved
12. Undertheskin – Cold
13. Bart Cathedral – Inject Me (Botox Remix)
14. Cube-[x] – Niederfrequenz
15. Vault 21 – Nuclear Winter
You may also be interested in