« Previous page
Sampler 09 Compilation is Out!
Updated: 29 July, 2023
Created:
19 September, 2015
By:Andrzej
Category:
News
We are happy to announce the release of the 9th instalment of our Sampler compilations. It is the third Sampler consisting exclusively of dark electro music. The new more focused formula appears to be working quite well. Instead of trying to be all things to all men we just focussed on music we truly love and stand behind.
Please listen, download for free or buy a CD here.
VA - Halotan Records Sampler 09
StyleDark Electro
More info and player
Sampler 09 can be described as a premade DJ set that will take every dark dancefloor by storm without any further effort. We have hits, we have sold pieces for in between the hits and some mood changers to let the people re-sensitise before the next onslaught of beats.
The mix of the bands featuring on Sampler 09 is extremely strong. Most of the music come from our own outreach so we can easily say that the playlist is handpicked by Halotan Records.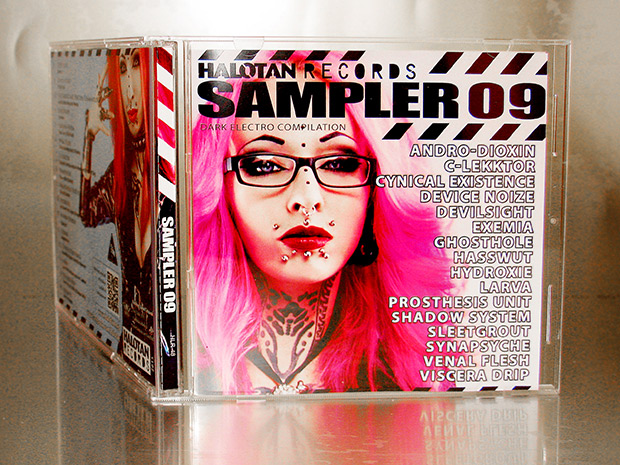 The response from the bands was absolutely phenomenal – about 90% of the bands we contacted did participate in the compilation.
We are truly proud of this release and we understand how high the bar is set now. All we can say is that we will try very hard to do equally well or even better on the upcoming Sampler 10.
The work on Sampler 09 took us just a little over a month from start to finish. Thanks to this very fast turnaround the music contained on this release is mostly very fresh. Some songs come from albums released this month, some have never been released at all.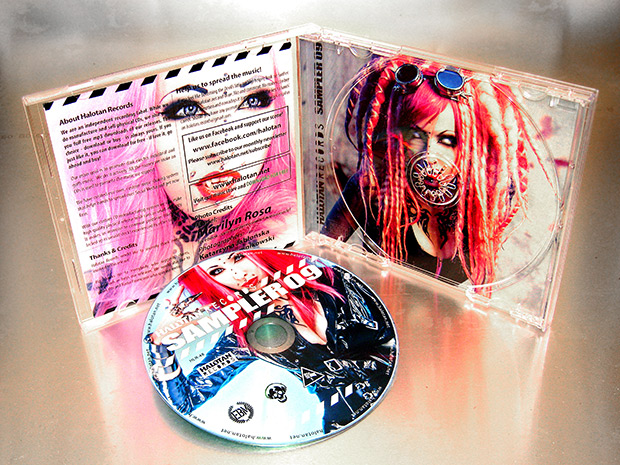 Compilations are a great way to both discover (for fans) and promote (for bands) new music. To be a fresh and reliable medium connecting artists and fans we need to offer music that is up to date. Thus, we are committed to rapid production cycle for Samplers as they are now our flagship release.
We hope you enjoy Sampler 09 – and if you are a real dark electro fan you really should. Stay tuned to Halotan Records for more music.
We would like to thank all the bands who took part in this release.
We would also like to thank the people whose work made this release possible, namely:
Daniel Cichowski – Zowa Studio – mastering
Marilyn Rosa – Alternative Model featuring on CD artwork photos
Katarzyna Jabłońska, Tomasz Krampikowski – photographers whose photos we used to design CD artwork.
You may also be interested in
Related products and CDs

VA - Halotan Records Sampler 10

VA - Halotan Records Sampler 09

VA - Halotan Records Sampler 08

VA - Halotan Records Sampler 07

VA - Halotan Records Sampler 06

VA - Halotan Records Sampler 05

VA - Halotan Records Sampler 04

V/A - Sampler 03

V/A - Sampler 02